PADI Open Water Diver Course 
Free 7mm Wetsuit Summer Special Valued at $500
Get Your PADI World Wide 18m Open Water Diver Certification and Learn To Dive in Melbourne with the Best Instruction in Victoria.
Learn to dive in Melbourne, and you will be prepared for diving anywhere in the world due to our high level of training and the different types of bay and ocean conditions that you will learn your important diving skills in. This makes you a better and more advanced diver than if you had learned to dive in warm tropical waters. In Melbourne, you will learn to deal with ocean currents, colder water, variations of visibility and surface conditions.
Your PADI Open water diver certification begins here. You will start with PADI's online eLearning course then on the first day, we will spend a few hours in our local swimming pool where you will practice your new scuba diving skills. Then experience four open water dives that consist of (Four shore dives)
The PADI Open Water Diver is the first scuba certification level. One of our highly-trained PADI Instructors will teach you how to scuba dive in a relaxed, supportive learning environment in a small class. By the end of the course, you'll have the skills and knowledge to dive at home or abroad and be an ambassador for the underwater world.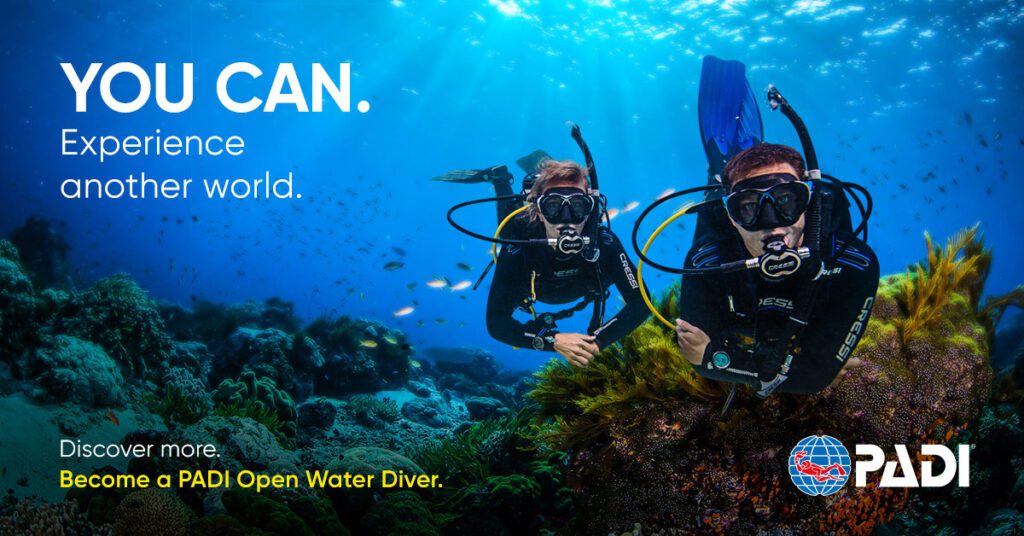 Take This Course If You Want to
Explore the other 70% of our planet
Support ocean protection
See things you've never seen before
Learn from a scuba diving expert
Carry the world's most recognised scuba certification
Enhance your travel experiences everywhere in the world
Meet like-minded adventurous and Fun people
The Basics You Need To Know About The PADI Open Water Course:
Our PADI Open Water Diver course is a full certification that allows you to dive with a buddy to 18 meters

Be a Competent Swimmer, eg Swim 200 metres and be medically fit for diving

You will need to have transport to and from the dive sites

The minimum age to become a PADI Open Water Diver is 15 yrs old. PADI Junior Open Water Diver course, the minimum age is 12 yrs old.

PADI online theory – eLearning to be completed before course commencement (normally takes 10-12 hrs)

Be ready to have so much FUN!
The dive course needs a minimum of 4 people to run.
You will be required to get a Dive Medical if you are any of the following:       
Find authorised Diving Doctors close to you. Click Here 
*Free Aqualung or TUSA 7mm Wetsuit Special Valued at $500. To Qualify for the FREE Wetsuit offer the basic equipment needed for the course must be purchased through our Dive Gear Australia Store. Basic equipment is a dive mask, snorkel, boots and dive fins. Conditions apply* Valid for December, January courses *course must be completed December or January as booked. *Wetsuit is given when the course commences.
The PADI Open Water Diver course consists of four main phases:
What You Need To Know
BEFORE THE COURSE STARTS
Complete the PADI Openwater eLearning Knowledge Development ( online, independent study) to understand the basic principles of scuba diving before you can learn to dive.
After Booking you will need to come and visit us at the shop, At least 2 weeks before your course date, as you need to be fitted out for a Wet Suit and Scuba Diving Gear.
COURSE STRUCTURE DAY ONE
The First Day – Today, you will meet at the dive shop at 8 am for orientation. 
Then you will learn about the Scuba Diving Equipment that you will be using to dive with, As well as how to set up your dive gear.
Next, we will make our way to the swimming pools where the FUN Begins, Starting with a 200-metre Swim and then the Confined Water Dives to learn the necessary basic scuba diving skills that you will have forever. 
After the pool session, we will make our way back to the Dive Shop and wash and refill dive tanks so that you are for a fantastic day of diving on Sunday morning. Today's finishing time usually is around 3-4 pm.
Your instructor will let you know where to meet for tomorrow, Normally down at the peninsula, about an hour and 20 minutes from DGA, Destinations can vary depending on the weather.
THE SECOND DAY
Today we will meet at one of our Great Piers for some shore diving generally around 8-9 am at Rye Pier, where you will practise using the skills you have just learnt and go exploring the underwater world and have some more FUN!
Usually Finished Back at the DGA Shop about 3-4 pm after gear washing, debriefing and learning how to record (log your first open water dives)
THE THIRD DAY
This morning we will go Scuba Diving at for a one-shore dive up to 10 metres deep exploring Melbourne's beautiful reefs and their fish life, .   Befor we start the last day of diving, you will need to come into the DGA Dive Shop to pick up your Dive Equipment a day or two before.
This morning we will go Scuba Diving at one of our fantastic Piers for some shore diving exploring Melbourne's beautiful reefs and their fish life.
The usual starting time for this day is from 8 am-9 am meeting at the dive site that your instructor has chosen based on the weather.
AFTER THE DIVES
We will make our way back to the DGA Shop for gear washing, debriefing, fill out our logbooks and complete your new certification as a PADI Openwater Diver.
WHAT GEAR WILL I NEED?
Like most sports you will need to purchase your personal items for the course, that is a Mask, Snorkel, Gloves, Boots and Fins. As dive professionals, we will fit you out with the right gear suited for you to maximize your comfort for Scuba Diving. Wetsuit and Scuba Hardware are provided.
WHAT CAN I LEARN NEXT
Once you are PADI Certified as an open water diver, you can take the next step to enhance your skills by Scuba diving deeper, Night diving, Wreck diving, Drift diving and perfect many more skills as
an Advanced Open Water Diver.
What if my eLearning was not supplied through Dive Gear Australia
Cost of dive course if elearning is purchased through PADI online and Dive Gear Australia is chosen as your dive centre to complete the course, Less $250.00
Cost of dive course if elearning is purchased through PADI online and Dive Gear Australia was not chosen as your dive centre to complete the course, Less $150.00